You've all been there—you found a book you loved, that made you stay up late reading, that haunted your thoughts weeks or months or years later.
And then you learned: they're making it into a movie.
Or: you saw a movie that brought you to tears, that thrilled and enchanted you, that changed the way you saw the world and the people in it.
And then you learned: it was based on a book.
In either case, you found one medium and sought out the other. And, inevitably, you find: one is much, much better than the other. How can this be? How does it happen? It feels like this should be a window into the workings of story, a way of learning how narrative works by seeing what happens when you change from one medium to another, or when you alter certain aspects of character or plot.
This is (I presume) the idea behind Scribble and Edit's Novel Films Blogfest!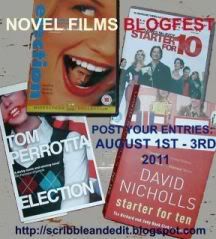 (Thanks to Sporkchop at the ROFL Initiative, who's always ahead of the curve on things like this.) Today I'm just going to post the list of book/movie combinations I've read/seen both of; tomorrow and Wednesday there will be commentary and general musings on the topic.